An editor friend and colleague recently noted the news of yet another round of layoffs coming in the top five New York publishers.
Where exactly is mainstream publishing headed? One super-sized publisher, devoted only to sure-fire blockbusters and the complete disappearance of the already withered 'midlist'?
In light of this, I want to discuss the increasing appeal and popularity of self-publishing via three online friends who have carved out a path of their own.
Gary Ponzo is the author of a series of thrillers featuring his hero Nick Bracco. When Gary and I first became Facebook friends (over a decade ago), he was just forging ahead with the first book. Already an accomplished writer of mystery short stories, he was offered a hardcover deal which–on the advice of his agent–he turned down in order to publish on his own.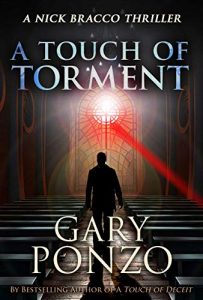 Gary spent the first ten years of his career writing shorts exclusively. After publishing seven stories and receiving two Pushcart Prize nominations, he had the confidence to write his first novel. And in 2003 he began searching for a literary agent to sell his first Nick Bracco adventure, A Touch of Deceit.
"I felt I had written a compelling story along with a great tagline: FBI agent Nick Bracco recruits his Mafia-connected cousin to track terrorists," he told me via email.
"Within a few months I'd received plenty of interest and signed with Peter Miller, known as the Literary Lion. For 18 months I did nothing but stare at my phone. Then after two years, one of his assistants contacted me to let me know she had left his agency and told me to leave him because he was just sitting on the book. Apparently, he'd given up and decided to keep my book on the shelf like a can of beans waiting for someone to come to him with interest."
Gary signed with a smaller literary agency, Wylie Merrick, to work with Robert Brown who sent out a few copies and got some mild interest, but no immediate offers.
"This was back in 2009," said Gary, "when A Touch of Deceit had just received the Southwest Writers Award for best thriller. Even with all my publishing honors, publishers were leery of signing anyone new. It was much easier to sell David Baldacci's thirtieth novel than Gary Ponzo's first one."
After six months of going back and forth, Brown received an offer with a minimal advance and a very limited hardcover run. "I was so ready to finally be published when Robert gave me some of the best advice I've ever received," said Gary. "He told me to forget the offer and publish the book myself as an Ebook."
"This was 2010 and Ebooks were in [their] infancy and self-publishers were still considered scabs. Writers who dared to bypass the gatekeepers of the publishing world and sell books without their approval. Never mind that I ended up paying a thousand bucks to have my book professionally edited and paid five hundred bucks to have a professional cover made and another five hundred bucks to have it formatted for Ebook consumption. The nerve."

"Finding Robert was such a blessing. I would've never had the courage to do it without his encouragement. And he was right. At some point in 2011, A Touch of Deceit had reached the top ten of all books sold on Amazon. That's right, only seven other books in the world were selling more than mine. Crazy huh? I would sell 1000 books in a day. Amazon Crossing decided to translate A Touch of Deceit into German and French. USA Network wanted to make a series out of it. Podium Publishing purchased the audio book rights. All this because Robert Brown insisted I go this alone."
As eBooks have gone global and Kindles and other devices have gone worldwide, the market has gotten more crowded. But Gary said he wouldn't change a thing.
"I have no regrets," he said. "Even though the Big Five Publishers finally figured out that Ebooks were the future and decided to squeeze out independent writers from the front of Amazon's landing page, it was the right call. Fast forward to 2020. There are hundreds, maybe thousands, of new Ebooks uploaded each day to Amazon. It's much harder to find an audience for your work. Readers are bombarded with options. Even someone with my stellar history has to grind out a living. But it was all worth it.
"Now, while working on Nick Bracco thriller #8, I'm so grateful to receive emails from my readers telling me how much they enjoy my work. I received one recently from a woman who was going through chemotherapy and told me that reading my books had helped her through the treatments. So glad."
As far as he's concerned, it's hard not to look at publishing as a business. "But honestly, I would be writing these stories no matter the financial prosperity. My characters are all mine and my readers are so loyal, there's nothing I'd rather do than spend time creating nail-biting scenarios for my readers to enjoy. And really, that's all I ever wanted. An audience."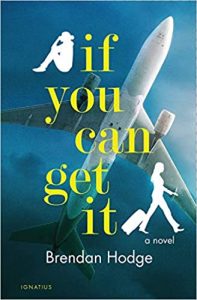 Brendan and Cat Hodge have been blogging since 2005. Both write fiction. Brendan has been working over the past few years on a long novel about World War I. Cat has written at least two other novels.
Last year Ignatius Press offered Brendan a contract to publish an earlier novel of his, If You Can Get It, which came out this past summer. What's interesting is that Ignatius is primarily devoted to Catholic apologetics and inspirational books. What few novels they have published seem to revolve around the lives of the saints (and look suitably mawkish). So a novel about a young technology professional dealing with multiple career changes while her younger sister moves in to sort out her own issues is definitely offbeat for them. There is a Catholic element to the story, of course, but it's primarily a family story.

What got me curious was why–after selling a novel to a traditional publisher, Brendan, like Gary, was ready to go forward on his own.
"It's been a fascinating experience helping to market the novel," Brendan recently wrote on his blog, not long after the book came out, "but one of the things that I discovered as I dug into resources for authors promoting their novels is that many of them are written by and for self-published authors….Of course, the trick is that self-published authors can do things which traditionally published authors can't. For example, they can adjust the price and run promotions. They can insert a live "subscribe to my newsletter" link into the ebook's backmatter, etc.
"Needless to say, there are things which a publisher does for you which represent a clear advantage versus self-publishing. They pay you an advance on royalties, cover the expenses of cover design, copy-editing, typesetting, etc., and do a certain amount of marketing themselves. But having just gone through the experience of launching a book while not being a publisher, I'll admit I was curious to try it as a publisher.

"One night, as I was looking at Amazon Sales Rank data and talking about things it would be interesting to be able to do, it clicked with us: We have multiple quality manuscripts sitting around, waiting to be revised and to find their way to readers; we have enough money to professionally package a novel and market it; and we now have spent a good deal of time researching novel marketing. We could do this."
The main thing that pushed he and Cat to want to try it, he added when we discussed it via direct message, "is that when it comes to promoting your newly released novel, there's a lot you can't do if you're with a traditional publisher. You can't advertise on Amazon. (Ignatius could, but that's not in their plans for mine.) You can't do a short term markdown and get it on BookBub, etc. And you can't control the price, etc.
"

So watching the things that Ignatius was doing, and noting the things that I couldn't do as an author coming out with them, I felt like we could take a pretty decent shot at pushing a novel much harder if we brought it out ourselves."
As for myself, I've let my own venture in self-publishing, Doctor Janeway's Plague, slowly retire from visibility. I pulled the Kindle version a while back, but you can still find a handful of copies of the initial Copyright 2000 paperback (for only a $100 and up!) via Bookfinder.com.
I'm more interested now in creating a complete Audio book version with a professional narrator and letting it carry on as audiobook only….